World Cup fever
For more than 60 years the world's best skiers have fought over fractions of seconds on the world-famous Chuenisbärgli World Cup course. Skiers and snowboarders in the Adelboden-Lenk ski region can also ski like champions, with the exclusive opportunity to swoop down the most difficult giant slalom course on the World Cup circuit.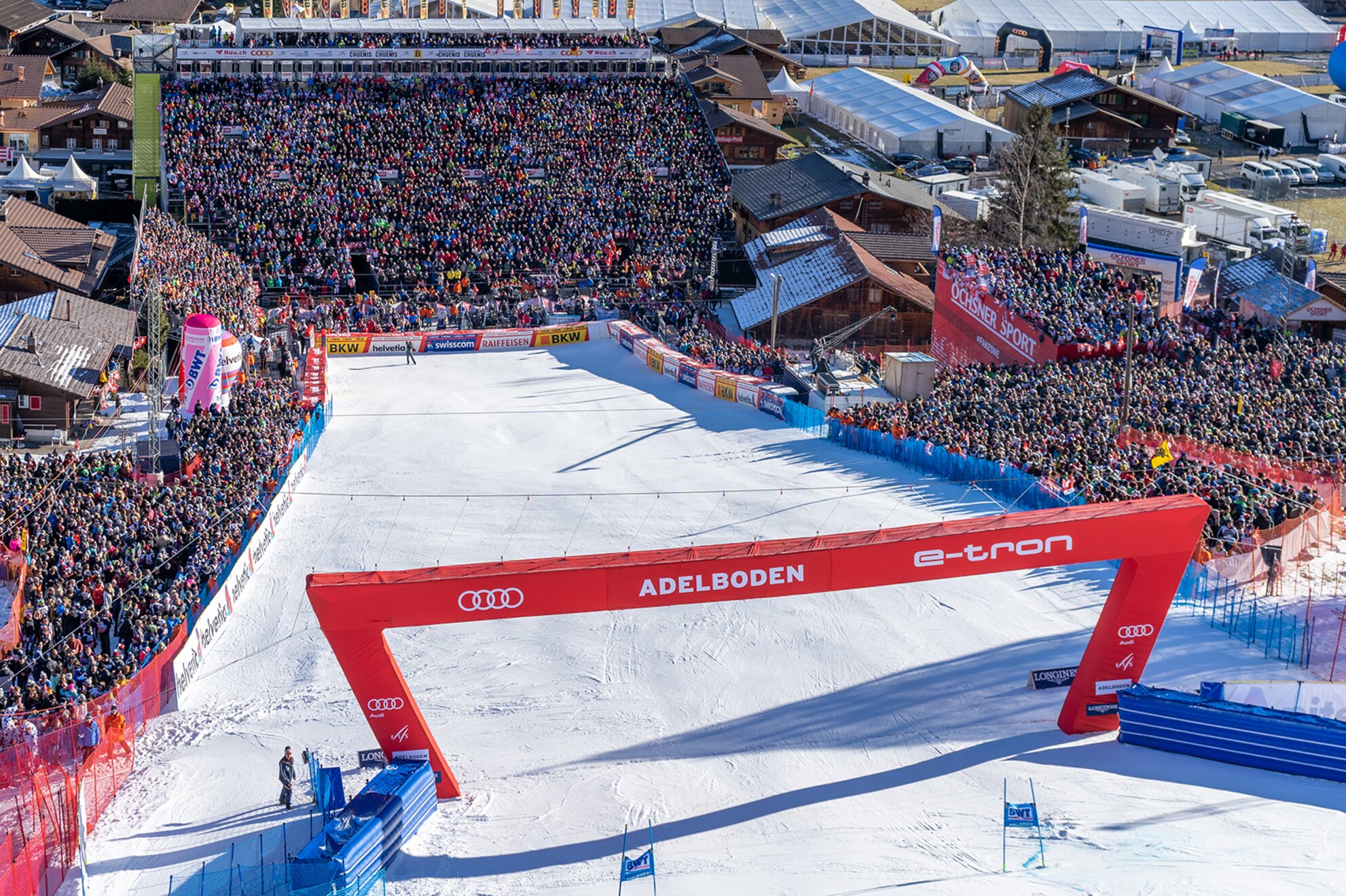 7 and 8 January 2023
Ski World Cup Adelboden
At the start of every January, 35,000 skiing fans make the pilgrimage to the Audi FIS Ski World Cup Adelboden. The breathtaking course on the Chuenisbärgli is legendary and steep. Top-class skiers will wind their way skilfully through more than 60 gates, overcoming inclines of between 10% and 60%. Meanwhile, the destination with its podium at the foot of the steep descent is transformed into a boiling witch's cauldron. Goosebumps are guaranteed for ski fans in the sea of red and white flags.
Dramas will be played out and legends made on the Chuenisbärgli in 2023 once more, where the best in the world take on the ultimate challenge.
Swisscom Skimovie Adelboden and Lenk
Be a champion yourself
And action! Competitive types carve their way skilfully through the Swisscom Skimovie gates next to the Tanzboden ski lift, or on Lenk's home mountain, the Betelberg, and are filmed en route. Fun is certain on the Swisscom Skimovie courses in Adelboden and Lenk as you compete with friends to beat them by a hundredth of a second, or to beat the clock.
Variety for experienced skiers
Adelboden-Lenk offers a wide variety of slopes for adrenaline, endurance and adventure away from the World Cup descent. You're sure to get the World Cup feeling!
AWARD-WINNING SLOPES AND EXCELLENT SNOWMAKING
Awarded
Adelboden-Lenk has received several awards for the quality of its slopes and excellent snowmaking. The ski region was even the first ski area in Switzerland to be awarded "quadruple gold" status in the piste quality seal.