Travel to Adelboden-Lenk
We can't wait to welcome you to Adelboden-Lenk. We have compiled some important information here to make your journey easier. Have a good trip – we look forward to seeing you soon!
TRAVELLING BY CAR
How to get to Adelboden-Lenk by car
Travelling to the Bernese Oberland is an adventure in itself. Please keep your eye on the road, despite the fabulous views. In the event of blowing snow, we recommend the use of chains or four-wheel drive.

A safe, relaxing journey requires planning. Make sure you obtain information about the latest traffic situation in good time. We're always happy to help.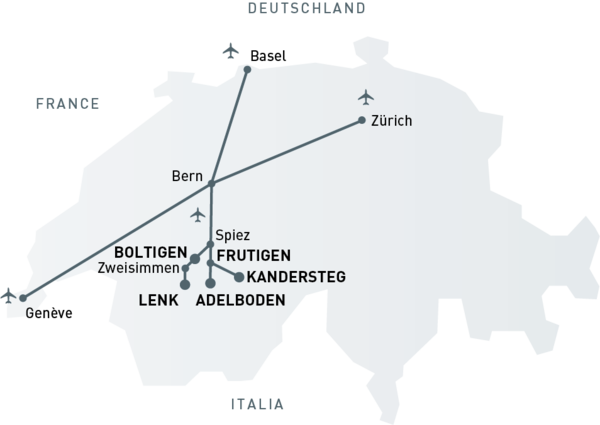 Travel to Adelboden by car
Address: Bodenstrasse 2, 3715 Adelboden
From Bern, drive towards Thun/Spiez/Interlaken. In Spiez, take the Kandersteg/Adelboden/Frutigen exit. Then in Frutigen, take the Adelboden/Frutigen Dorf exit. Follow the road to Adelboden Oey. At the roundabout, take the third exit and follow the signs to the Silleren P1 car park.
Addresses for other resorts
Travel by public transport
It's easy to reach us on public transport too.
The bus route takes you to Adelboden from Frutigen. Bus and train timetables are perfectly coordinated and it's just a few steps from the train to the bus stop.
Here is the Bus timetable
For the Silleren valley station: Use the Mineralquelle stop in Adelboden, then a 3-minute walk.
For the Chuenisbärgli valley station (winter): Adelboden Oey stop, then a 1-minute walk; and catch the bus to Unter dem Birg.
For Engstligenalp: Adelboden Oey stop, then a 1-minute walk; catch the bus to Unter dem Birg.
For Tschentenalp: Adelboden Post stop, then a 5-minute walk.
Further information / wheelchair and group reservations:
AFA Adelboden, telephone +41 33 673 74 74, info@afabus.ch or
Swiss Railways SBB
Via Bern and Spiez to Zweisimmern.
Change in Zweisimmern for Lenk.
The ski bus departs regularly from the railway station for the valley stations. Here is the bus timetable
For the Metsch valley station: use the Rothenbach stop, then go straight to the Stand Xpress gondola lift valley station
For the Betelberg valley station: use the Betelberg valley station stop, then a 1-minute walk to the escalator.